Free Word Fax Cover Page Templates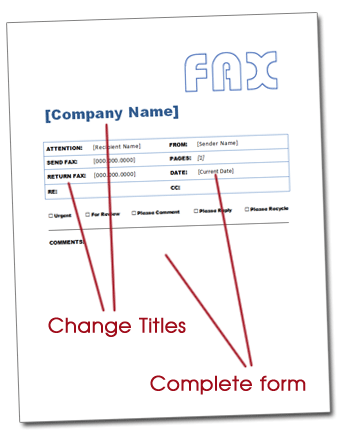 Printable Fax Cover Letter Templates using Microsoft Word

Build a fax cover letter template of your own while selecting from a number of page styles. Our free fax cover letter templates are quick and easy to use, and you can save and use them over and over once you set it up just the way you like! Click any of the three fax cover letters below and then select each section of the page template to add your details.

Instructions:
1) Open the fax cover letter template of your choice below
2) Change page titles / update blank form field data
3) Save the printable form to your hard drive so you can reuse anytime or print multiple copies of form for future use

Would you like a printable PDF formatted version instead? Click the link below if Word is not the format you were hoping for:

PDF Fax Cover Sheet
Word Fax Cover Sheet (selected)
PDF Facsimile Cover Sheet
Word Facsimile Cover Sheet








Select Your Cover Sheet Template
Free Fax Cover Sheet Templates
Select your professional template from the three choices below. They will download in Adobe PDF format so you do need to have this software in order to download these cover letter fax templates.


| | | |
| --- | --- | --- |
| Fax Cover Sheet 1 | Fax Cover Sheet 2 | Fax Cover Sheet 3 |
| | | |
| This is a basic Microsoft Word fax cover page. | Blue Word Fax cover Form template. | Red Word Fax cover Letter template. |






Link to Apollo's Templates


These fax templates are free of any charge for online download and of course you aren't required to link to our website, but it is a way to thank us for this free service. A link would be appreciated if you have a blog or website. Click here for link instructions. If you don't have a website to add us too, just remember to bookmark our website and maybe refer a friend.

- Apollo

Making life a little easier with free fax cover sheet templates! Keyword terms: blank fax cover, printable, free, sample, example, cover sheet, cover letter, cover page templates.