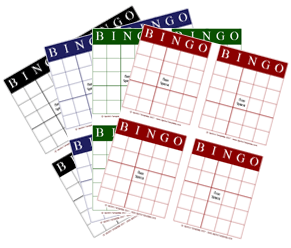 Make your own bingo cards for free!

Create Printable Bingo Cards using our bingo card template. Our blank bingo card templates can be populated at the click of a button. This template allows you to make numerous random configurations of bingo boards each time you click the "Create new cards" button. We have 4 bingo card sheets including black, blue, green and red. Once opened you can select from 4 different font colors to make your custom colored bingo game!

We also offer a Bingo Shutter Card that you can print out to keep track of your games.












Step 1 - Select Your Bingo Card Template
4 Free Bingo Cards Sheets
Black Bingo Cards
Blue Bingo Cards
Green Bingo Cards
Red Bingo Cards
Please be patient while downloading the Bingo Card Boards as the file sizes are large.

Step 2 - Customize Bingo Card Template and Print!

Once you have successfully opened the bingo sheet in step 1, you can simply click the "Create New Cards" button. This will randomly generate bingo board game numbers for each of your 4 sheets.

At this point, print your 4 cards, then you can click the button again to randomize 4 new bingo cards and then print another sheet!

With the bingo card sample to the right, you will also notice that there are four buttons in the upper left of the sheet that allow you to change the font colors. Feel free to utilize this capability as well.

After creating your customer bingo cards you can also purchase hard paper or board stock at your local store to print these cards which will make your bingo cards a bit higher quality!

Note: Remember that you can't save changes to your printable Bingo Cards after you make them (unless you have Adobe Acrobat Professional).
These custom bingo cards will allow you to match whatever event you may be having. They are perfect for all the holidays and special events such as Christmas, New Years, Halloween, Baby Showers, Valentines Day, Birthday, Wedding, Bridal Shower, Retirement Parties or even Easter! For example - Playing with green Bingo cards and red font is perfect for Christmas parties. This is your Bingo Card Maker / Generator!

Step 3 - Link to Apollo's Templates


These bingo card templates are free of any charge and of course you aren't required to link to our website, but it is a way to thank us for this free service. A link would be appreciated if you have a blog or website. Click here for link instructions. If you don't have a website to add us too, just remember to bookmark our website and maybe refer a friend.

- Apollo

Making life a little easier with our free Bingo Cards!