Sport Card Templates > Soccer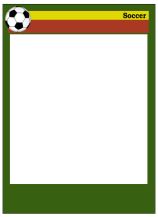 In a matter of moments you can create a soccer card for your favorite athlete and team utilizing our free soccer card templates. All you need is a picture, the team name, athlete's name and our template. Well that, and some thicker paper for your printer would be nice.

We lay it all out in a few simple steps to create the sports card. If you are doing this for an entire team, we have a soccer card template made for an entire team (or at least 9 at a time)!

Also - remember we currently have templates for several different sports. Visit the Sports Card Template home page to reveiw them all.











Step 1 - Select Your Soccer Card Template
Soccer Card Templates come in 3 different configurations
Step 2 - Customize Soccer Card Template and Print!
Once you have successfully opened your soccer card template into Adobe Acrobat, you can add your picture by clicking in the center of the soccer card. Note that we recommend you crop (cut off) the top or bottom 20% of the average picture so that the picture doesn't get stretched. The average picture is 1.3 times longer than it is wide. The picture portion of these card templates are only 1.1 times longer than their width.

Next add the team name and player name to each card.. Keep in mind that you just as easily place the team name or player name in either position. In fact, most cards will place the players name on the bottom of the card, but either way works!

If you have selected the Team Soccer Card Configuration template from above you will need to do this for each and ever card prior to printing. If you don't use a couple of the cards, they will print anyway, but it still saves paper and is worth doing.

Now that your configuration is ready to go, find the thickest paper (also called "board") your printer can handle. You may wish to consult your local paper supply store. Many of them have a thick glossy board, or a "specialty board" that can make some very cool soccer cards utilizing these templates.

Also - let us know if you create a link to us from any website you have access too they are always appreciated!

Note: Remember that you can't save changes to your soccer field layout in Adobe unless you have Acrobat Professional. So you will want to setup the diagram and then print copies when complete.

Note: Team & Player Name can be swapped of course.
Step 3 - Link to Apollo's Templates


Of course you aren't required to link to our website, but it is a way to thank us for this free service. A link would be appreciated if you have a blog or website. Click here for link instructions. If you don't have a website to add us too, just remember to bookmark our website.

- Apollo


| | | |
| --- | --- | --- |
| | Website Navigation | |
| | | |
| --- | --- | --- |
| | Business Templates | |
| | | |
| --- | --- | --- |
| | Bill of Sale Templates | |
| | | |
| --- | --- | --- |
| | Greeting Card Templates | |
| | | |
| --- | --- | --- |
| | Invitation Templates | |
| | | |
| --- | --- | --- |
| | Fun Templates | |
| | | |
| --- | --- | --- |
| | Sports Templates | |
| | | |
| --- | --- | --- |
| | Page Utilities | |