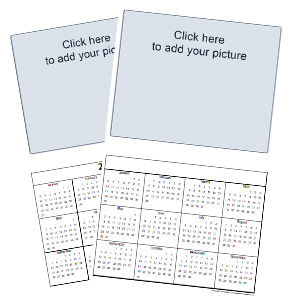 Make your free year 2010 calendar!
Build your own custom 2010 photo calendar using our picture calendar template! Our
blank 2010 photo calendar template
can be updated with a title and photo!
Create a special family calendar or work related calendar with pictures and print. We provide the instructions below!

Need a calendar for a different year?
Year 2010 * Year 2011 * Year 2012 * Year 2013 * Year 2014 * Year 2015
Step 1 - Download Your Photo Calendar Template
Free 2010 Calendar Template
Step 2 - Customize Calendar Template and Print!

Once you have downloaded your free 2010 calendar template in step 1, you can add a picture. Then update the year title if you wish.

We have a few suggestions to ensure that you get the desired result:



Use horizontal pictures


Unfortunately there are limitations with Adobe and vertical pictures will end up left justified unless you alter their shapes to be horizontal prior to adding to your calendar template.



Use quality size pictures


Make sure to use a picture of high quality, otherwise image quality will be poor when you print.



Use Legal rather than Letter size paper


This template is formatted for legal paper (8.5" X 14" as opposed to 8.5" X 11"). It still works with the smaller paper, but it is way more cool with the other size!






Create your own special calendars for holidays and special events such as Christmas, New Years, Halloween, Baby Showers, Valentines Day, Birthday, Wedding, Bridal Shower, Retirement Parties or even Easter!

Note: Remember that you can't save changes to your printable calendar after making them - so remember to print. Purchasing a copy of Adobe Acrobat Professional will allow you to save these templates.
Step 3 - Link to Apollo's Templates/span>
These Calendar templates are free of any charge and of course you aren't required to link to our website, but it is a way to thank us for this free service. A link would be appreciated if you have a blog or website.
Click here for link instructions
. If you don't have a website to add us too, just remember to bookmark our website and maybe refer a friend.
- Apollo
Making life a little easier with our free Calendar Templates!